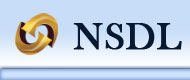 NPS Subscriber's request for change in signature and photograph
Subscriber has to submit the change request as per prescribed format to the DDO in Form S7 with whom he/she is associated.
After verification and authorisation of the request, DDO has to consolidate all such requests and forward it to the concerned PAO along with a covering letter as per the prescribed format in Form S8.
PAO has to verify and authorise the request and submit the request to the * CRA-Facilitation Center . On upload of the request by CRA-FC, new signature and/or photograph will be updated in the CRA system. CRA shall print a new PRAN card and dispatch it to PAO who forwards it to the DDO for onward distribution to Subscriber.
S7 Form-Change-in-signature-or-Change-in-photograph
* CRA Facilitation Center
CRA-FC is the entity appointed by NSDL to extend various services under NPS, to its users across the country. The entities who have been appointed as CRA-FC shall establish multiple branches across the country to provide services to the nodal offices such as Pay & Accounts Office (PAO) or equivalent office under Central and State Government.
As per present scope of CRA, following services shall be offered by the CRA-FC
Acceptance of Application for allotment of new PRAN
Acceptance of Subscriber request for change in signature and/or change in photograph.